ULD is USB Ultrasonic microphone for Android smartphones and tablets with driver and application for Compressed Air Leak detection and management with real leak cost calculation.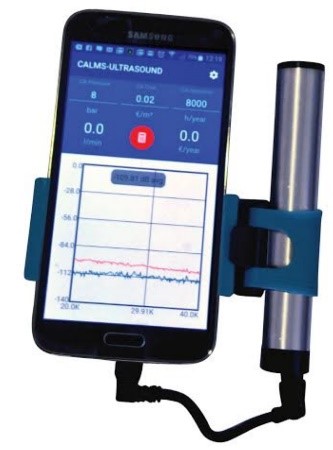 Benefits & Features
Fast Leak Detection
Immediate Flow and Cost estimation
CALMS Leak Management System Synchronization
FFT Graphical Leak detection
Data Export option (CSV)
Save energy costs on Leaks, Inappropriate uses & artificial demand
Save your time and improve the organization
Improve your environmental image
ISO 11011, Compressed Air Assessment compliant
Microphone
The MEMS (Micro-Electro-Mechanical Systems) microphone is very sensitive, with a good signal/noise ratio and small form factor.
Connections
Connect the ULD sensor to your Android smartphone or tablet, and it will immediately be recognized as a new input. Additionally, you have to connect Bluetooth wireless headphone. With CALMS ULD Android software ULD sensor will be recognized and ready to find leaks. Next step is to log in to CALMS web service and sync data to start doing Leak Management.
See table for Android device compatibility.
Settings
ULD is factory set to work with CALMS ULD software. No field adjustment needed.

| Description | CALMS ULD |
| --- | --- |
| Sensor | MEMS high sensitivity ultrasonic acoustic sensor |
| CPU | Integrated micro-controller 32 bit |
| Type | Digital, with high-quality low noise analog pre-amplification |
| Sampling rate | 190 samples/second |
| Frequency range | 96 kHz |
| Resolution | 16 bit |
| Communication | USB 2.0 |
| Software | ULD for Android ver.6 or higher with USB OTG * |
| Operating Range | 0 – 45 C |
| Power supply | USB 5Vdc |
| Size | L 130 mm x W 18 mm |
| Weight | 120 g |
| Materials | Enclosure: ALU, Cable Entry ABS plastic, EPDM rubber |
| Phone Holder | Yes (up to 5.5") |
| Scope of supply | ULD detector, holder, USB cable Type C or B, Bluetooth Headphones |
| EMC | EC 2004/108/CE, 2006/95/CE |
| Class | IP54 |
| Approvals | CE |