The easiest and most effective way to control compressed air system pressure and flow with an online monitoring application.
The CALMS Flow Controller (CFC) & Compressed Air Control System controls Compressors and the airflow/pressure being delivered thereby reducing artificial demand in the Plant.
CFC is a flow control valve used with CALMS CAL-PM-x box for regulation and online optimization purpose. By performing a CALMS CFC analysis on a compressed air system, the lowest possible operating air pressure will be learned. Using this calculation, big enough storage and CFCs unique ability to meter compressed air at constant pressure, overall demand-side pressure can be lowered. By lowering demand-side pressure, leaks will consume less compressed air, thus saving considerable energy.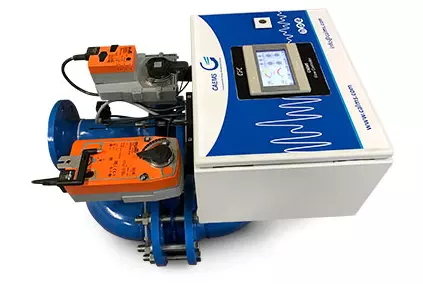 Benefits of CALMS Flow Controller CFC
Average SAVINGS 8%, possible savings 15% or more !

Simplified electrical regulation valve with special designed disc valves

Isolates Supply side (Compressors) from Demand side (peaks)

Easy to install as many as you need for multiple production lines

Saves Compressed Air Energy through reduction in Artificial Demand

CFC flow controllers are measuring flow and pressure

Online monitoring - CFC is the only device that has online monitoring and compressor

control integrated

Remote monitoring and control

Ramped start opening for ensuring dry air

Reduces leakages losses in departments with shut-off function

Enhances useful storage capability

Reduces unload period of compressors

Ensures LOW and constant (stable) air pressure different for each production line

Easy Setting the Optimum Plant Pressure on CALMS with online trending

Pressure set point resolution: 0.08 bar (1 psig)

Pressure control in the range of: 2-40 barg / 30- 580 psig

Fail safe operation
Features
Multiple valves connect to one CAL-PM-x control box
All CFC valves come with flow calibration option
Bi-directional also as back-pressure controller
Control based on flow or pressure
Space saving wafer type construction
Easy installation by customer
Lowest possible size and weight
No dry air needed for operation
Low operation noise level (quiet operation)
Self-adaption
Operating pressures up to 40 bar (580psi)
Control of high differential pressures with small actuators
Programmable pressure setpoints schedules for multiple CFC valves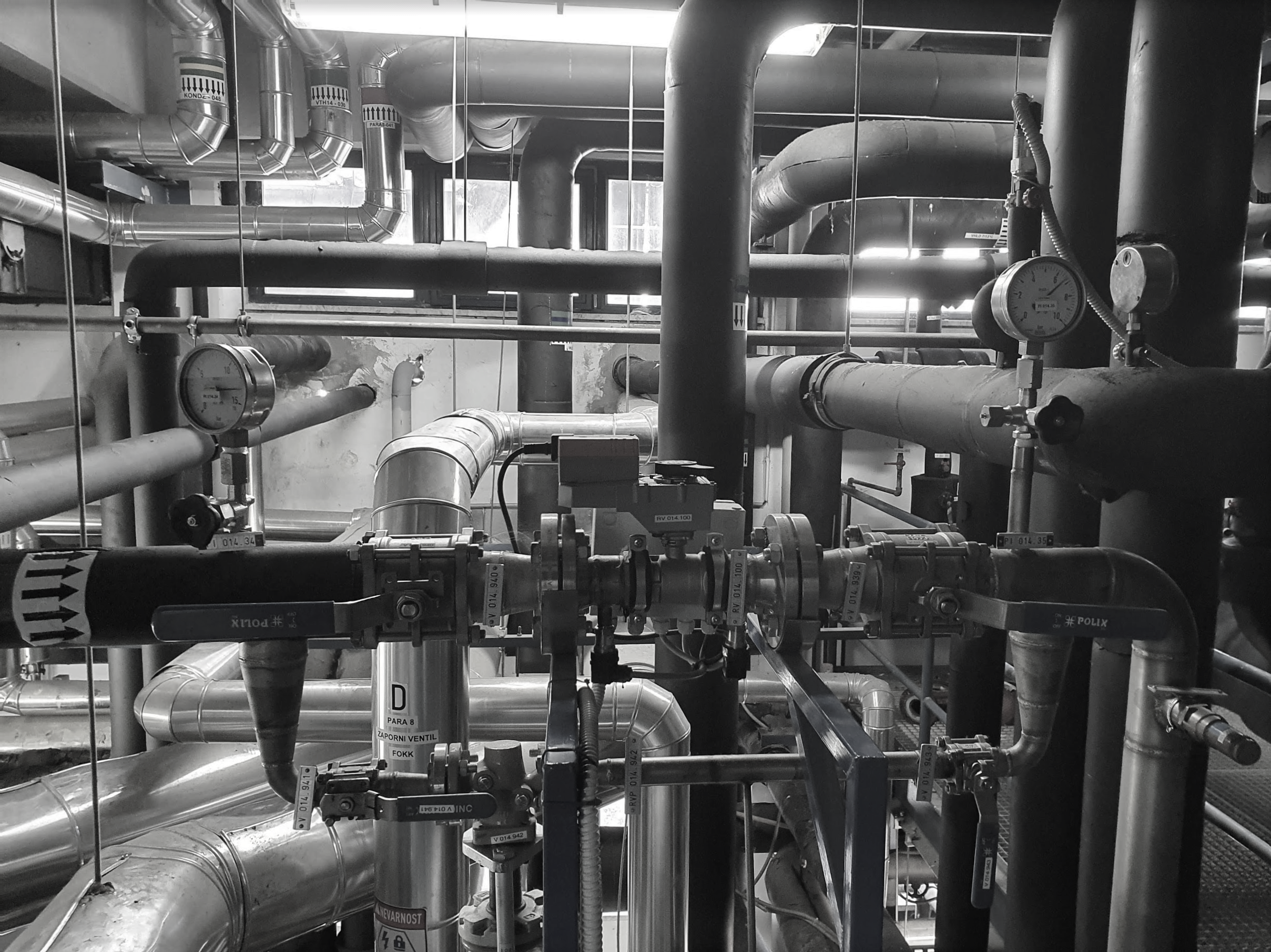 CALMS - Compressed Air Management System - Process diagram CFC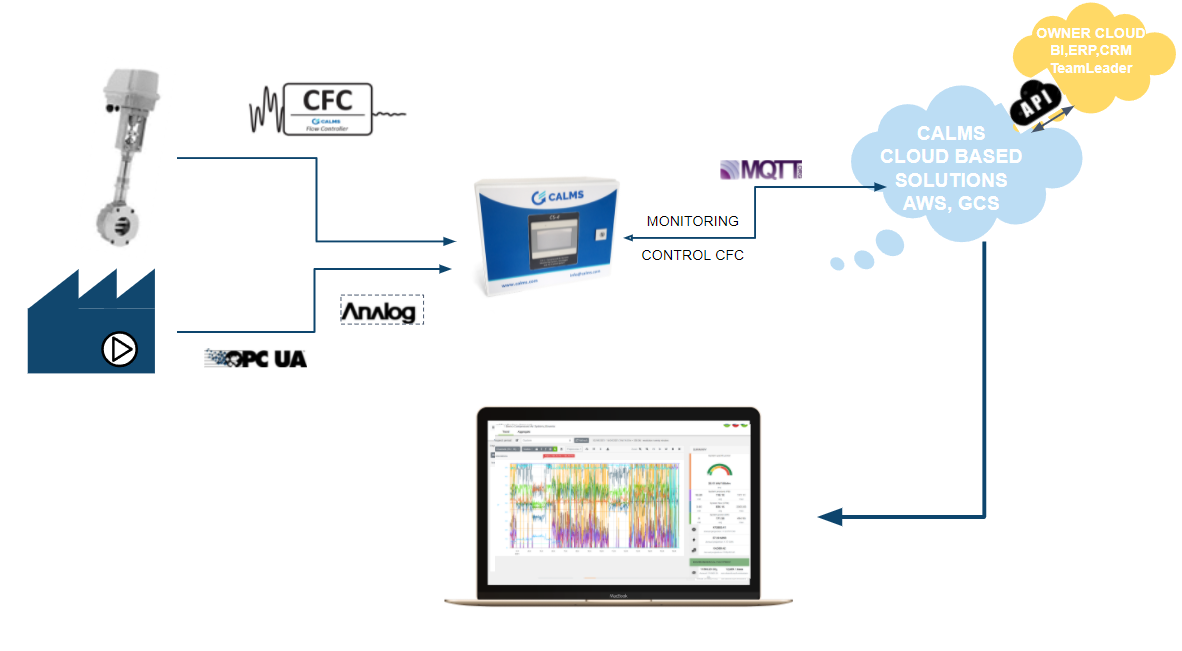 CFC is installed somewhere inside the factory. All measured data will be sent to the CALMS – PM by analog 4…20mA signal. CALMS – PM has an antenna, which allows data transmission to the CALMS virtual cloud, if connection is established. Data inside the cloud will be sent to the CALMS platform, where data are shown in graphic or numerical form. That allows you to analyze your compressed air system.
For more details open DATASHEET
cal-cfc-flow-controller-datasheet-id-1118.pdf
| Model | Description | Pipe dia | Flow | Pressure | Pressure SP resolution |
| --- | --- | --- | --- | --- | --- |
| | | mm / inch | m3/min | Bar / PSI | Bar / PSI |
| CFC-50 | CAEMS Flow Controller DN50 (2") with CAEMS online connection | DN50 / 2″ | 2-25 | 10 / 145 | 0.05 / 1 |
| CFC-65 | CAEMS Flow Controller DN65 (2 ½") with CAEMS online connection | DN65 / 2.5″ | 2-34 | 10 / 145 | 0.05 / 1 |
| CFC-80 | CAEMS Flow Controller DN80 (3") with CAEMS online connection | DN80 / 3″ | 5-45 | 10 / 145 | 0.08 / 1 |
| CFC-100 | CAEMS Flow Controller DN100 (4") with with CAEMS online connection | DN100 / 4″ | 5-89 | 10 / 145 | 0.08 / 1 |
| | Description |
| --- | --- |
| Type | CFC-50, 65, 80, 100 |
| | CAEMS Flow Controller, Regulation range 5-10 bar, resolution 0.05 bar, flow range- check table, |
| Regulation valves -MRV | DN50(2")– electrical fast acting regulation valves 0-100% , 4-7 sec |
| Bypass valves -BRV | DN50(2")- electric regulation valves with Fail safe (NO) |
| Web communication | CALMS web monitoring connection with 3G router |
| Sensors | Pressure transmitter IN and OUT 0-16 barg |
| | Flowmeter function (calibrated 0-120 m/s +-3%) |
| | Embedded PC-PLC 8090, micro SD 1GB |
| | Operator panel HMI 4.3 inch 480×272 Touch- Ethernet |
| | Ethernet and EtherCAT connection |
| | 4-channel analog input terminal 4…20 mA, single-ended, 12 bit, 4 x 2-wire system |
| | 2-channel analog output terminal 4…20 mA, 4 x 2-wire system |
| | 4-channel digital input terminal 24 V DC, filter 3.0 ms, 2-wire system |
| | 4-channel digital output terminal 24 V DC, filter 3.0 ms, 2-wire system |
| Power Supply | 24Vdc / 110Vac/220Vac, 2A, 60W, Electrical cabinet |
| Approvals | CE |